A little bit about us…
Country Crossroads Feed and Seeds wants our customers to feel comfortable to ask questions so we can provide them with the knowledge they need to grow quality crops and animals.
We were established in October of 2003 by Darleen Krisher-Meehan and her husband Joe Meehan. We first started out as a small feed store out of our home and in January of 2004 we moved to our current location. Over the years we have grown into what we are today. Together we cash crop approximately 950 acres that we sell mostly through our store. We raise our own sunflowers, oats, rye, wheat, corn and soybeans. Plus produce small square bales of hay and straw. We have a 48X80 cover-all structure for hay and straw storage and a 20X40 warehouse for seeds and carry over feed. Country Crossroads carries a complete line of Nutrena feeds, grain free dog foods, supports by local and strives on customer service. We offer a bulk lime spreading service, do free pH testing, sell non restricted chemicals, farm seeds and fertilizer both in bags and bulk.
Meet Lux!
Lux is our border collie mix that loves kids, playing catch and being loved on. Everyone loves Lux and wants to take her home with them. She is one of our family members and is treated just like one of the kids.
Burdette driving tractor and doing what he loved.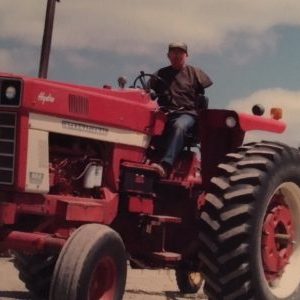 January 6, 2018
Your in a good place dad, love you always!